Menu of the current area:
---
---
Position:
---
Content:
IWSM 2015: Social Activities
Important Note:
Registration to the social activities (except for the informal Get Together) is made as part of the registration process for the conference (see Registration). The places are limited and are allocated on a first come - first serve basis. So please register in time if you want to ensure that you have a place.
Get Together:
The informal Get Together will take place on Sunday evening at the Klosterhof. For more information see here.
Welcome Reception:
The Welcome Reception will take place on Monday evening in the University-Center (Mensa) at the Johannes Kepler University Linz on the top floor.
Excursion:
For the excursion, which will take place on Wednesday afternoon, you can choose between the following two options.
Kremsmünster Abbey:

The monastery of Kremsmünster, founded in 777 by Tassilo III, Duke of Bavaria, has been a spiritual, scientific and cultural center of the region for centuries. In the 17th century, the monastery complex, constructed on medieval buildings, was converted to Baroque.

Highlights of our visiting tour are art treasures like the Tassilo Chalice and Candlesticks (created about 770), the baroque monastery library with early manuscripts and antique books, the fish ponds and the mathematical tower, an early high-rise, which served as an observatory.

For further information see here.

Walking / Hiking Tour:

We will have an approximately 2.5-hour walking tour starting at Altpernstein Castle up to the Hirschwaldstein (1095 m).

The ascent to the Hirschwaldstein leads through forest area with beautiful views down to the Kremstal and the region of the Pre-Alps.

Sturdy shoes (trekking or mountain shoes) are recommended.

Dinner at Excursion:

In the evening both groups will join at the Hotel Schicklberg for a traditional Austrian dinner. The participants will be brought back to Linz by bus.
Conference Dinner:
The Conference Dinner will take place on Thursday evening at the restaurant of ARCOTEL Nike, which is located at the Danube and near the main square of Linz.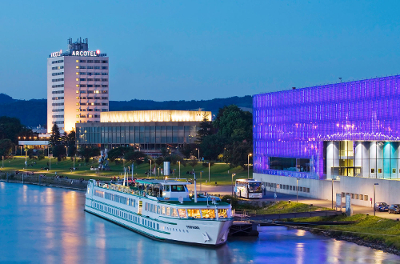 ARCOTEL Nike Linz
Untere Donaulände 9
4020 Linz